Tye's Close - Lincolnshire
---
Tye's Close
Tye's Close, Magna Mile, Ludford, Lincolnshire, LN8 6FE
---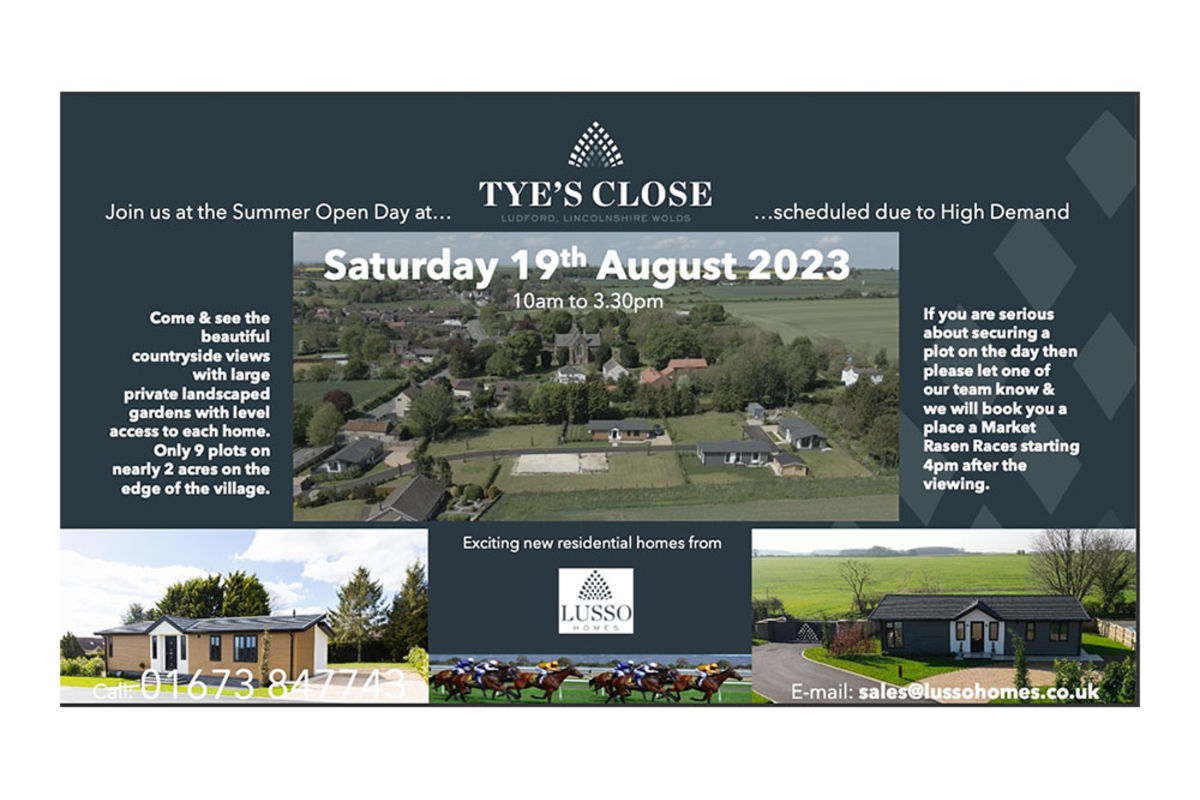 TYE'S CLOSE BRING FORWARD PHASE II, WITH PLANNING PERMISSION FOR 4 MORE HOMES OF YOUR CHOICE -
Join us for our open day 19th August
Lusso Homes are delighted to announce that Planning Permission was granted early for 4 more homes on the nearly 2 acre site bringing the site to full capacity of 9 residential plots available for occupation this year.
With contractors ready to complete the remaining plots this year we anticipate the park will be full by Spring 2024, 12 months ahead of schedule due to the demand. The contemporary quality & design of the park is attracting residents from all over the country with the first tenants relocating from Leicestershire, Worthing (on the south coast) & South Africa (via Nottinghamshire). In general interest is coming from busy cities in Gloucestershire, Staffordshire and the East Midlands from people looking for a more peaceful less overcrowded pace of life in a unique quality location.
Lusso Homes have had no choice but to fit in a final 'Open Day' this Summer on the 19th August 2023 due to an overwhelming demand for those not wanting to miss out on the last remaining plots. If you are serious about upgrading your lifestyle in retirement then join the Lusso Homes team along with the residents of Tye's Close at their Summer Race Day at Market Rasen after viewing the site. Invitations are strictly for those who are serious about securing a plot for their future by placing a deposit on the day they can have a taste of the Lusso lifestyle they are investing in.
Homes are available from all the leading manufacturers providing they are designed to the highest standard so choose your dream home then come & choose the perfect plot
Telephone: 01673 847743
Address: Tye's Close, Magna Mile, Ludford, Lincolnshire, LN8 6FE
---
Located At
---